The Stairway to Heaven
Mizoram was the first state that CLIx went to in 2016 with Teacher Trainings. It was only right that we went to this state again when we began training Teacher Educators (TEs) who would work with us to deliver the training to teachers in the 70 new CLIx schools in Mizoram this year. The journey for this year has begun with a high that these mountains naturally seem to afford us.
Twenty TEs from three different subject specialisations (English, Maths and Science) across five districts (Aizawl, Champhai, Kolasib, Lunglei and Serchhip) had been identified by a special committee set up by the Directorate of School Education, Mizoram, to ensure that CLIx trainings would be a self-sustaining, scalable enterprise in the state. These TEs would be trained in the CLIx Modules and would be placed in a fast track programme completion to get the RTICT certification for their own professional development.
We present a few glimpses of the TE training. This is the trailer. The film unrolls through the year. Join us on this journey of 'make-seek-share' (i2c motto).
We began at 9:00 AM sharp on Tuesday, 24 April 2018,with inspirational speeches from Mr Lalrambuatsaiha (Deputy Director, Directorate of School Education, Mizoram) and Dr Diki (CLIx Mizoram Lead). Some of their words still resonate:
'CLIx is a long-term process.'
'It is something we can all do for our students, what we can do for the education system, what we can do for society and what we can do for the betterment of Mizoram.'
'We teach them what to think…. the modules [teach] them how to think…'
The TEs engaged in three different ICT tools on Day 02. In the photographs, from the front, Row 01 has Maths TEs led by Arati and Arunachal, Row 02 has English TEs led by Rafikh and Mayuri,and Row 03 has Science TEs led by Prayas and Rafikh and all helped by the Mizoram team members. The subject grouping was strengthened in the afternoon when the subject modules were explored.
Humor is the affectionate communication of insight. — Leo Rosten
The ultimate tool of communication, the connector of positivity, the breakdown of all barriers, the signal of social evolution — laughter — resounded through Kulikawn School, the site of the TE  training. The English TEs and Mayuri sure had fun as they planned facilitation of teacher trainings for English teachers in Mizoram. As Frank A. Clark said: "I think the next best thing to solving a problem is finding some humourin it." Our TEs did laugh, solve, discover, share and more.
Do not… keep children to their studies by compulsion, but by play. — Plato
From Geogebra slider animations shared on the CoP to updates on mission levels solved in the Geometric Reasoning of PoliceQuad to Linear Equations for measuring a seed to the colourful displays of Proportional Reasoning our 08Maths TEs from Mizoram were busy exploring the CLIx Maths modules and verifying their insights with Arati.
We learnt that the Sharing Tool should not be introduced around lunch time, because as RL joked,'Seeing the parathas is making us hungry.' Oh! Trainings should always be this much fun.
The Foldscope enfolded all disciplines as every TE was eager to observe the tiny microorganisms in our Ecosystem as Rafikh led us to view the world with new eyes. Literally. 🙂 Needless to say, now every TE wants this wonderful tool in for his or her students.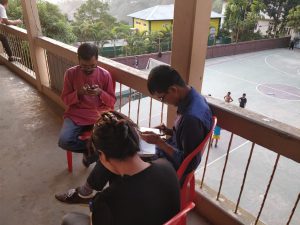 Even when the power went off the Science TEs and Prayas just moved outside and used their cellphones instead of the computers to continue the training. Nothing could distract them. Dedication at its best.
Let the music resound. 🙂
Arunachal and 03 of the Science TEs from Mizoram explored the qualities of sound that could be taught using ICT and non-ICT tools and, in the process, created their own activities.
Rohluzuala, one of our Science TEs, said during his demo session of teacher training facilitation that his interest in teaching Science has increased from what it was before this training and that he is fascinated by the technology affordance. (Source: HT, another Science TE, who was acting as translator from Mizo.)
We are sure our visitors from Telangana SCERT, Dr Vivekan Reddy and Mr Ramanjeyulu, who immersed themselves in the trainings will agree with the TEs.
There is so much fun to be had in CLIx Trainings. As Arunachal says, the sweet spot indeed. 🙂
Anusha Ramanathan, TPD-Implementation Coordinator , Consultant , English TPD, Implementation teams, CLIx
Please follow and like us: