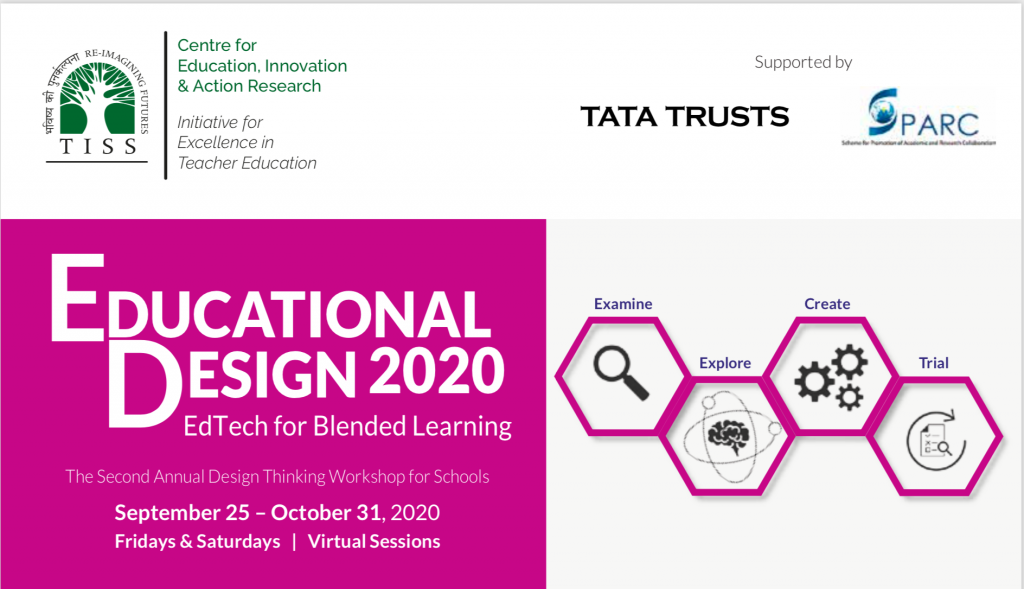 The Centre for Education, Innovation and Action Research is happy to announce its 2nd Annual Design Thinking Workshop in the virtual mode from  25th September, 2020 – 31st October, 2020

Design thinking is a creative approach to problem-solving. Through collaboration and iterative thinking around the design,  participants develop ways of thinking through and creating solutions to their identified problems. It involves integrating the user's context, affordances of technology, and taking into consideration systemic constraints into the design thinking process to create meaningful, implementable and contextual solutions. Participants of our first workshop have tried developing digital games/resources for different teaching-learning challenges.  This year's workshop will focus on digital pedagogies for schools in the light of the COVID-19 pandemic.

Rationale:

The COVID-19 pandemic has forced teachers to adopt digital technologies to continue reaching students through synchronous and asynchronous platforms. Teachers have had to create, curate and design digital resources in a fairly short duration of time. As most schools complete at least 2- 3 months of teaching using digital resources, there is a pool of knowledge and experience that teachers can share to reflect on and enhance the learning experience in the coming months. This workshop aims to foreground recent teacher experiences and explore, examine and experiment with technology to reimagine pedagogy that will support interactive and active learning. To this end, CEIAR is committed to use design thinking to create a space where educators can examine teaching-learning problems, assumptions, implications and design solutions by understanding learners and their contexts in authentic and humane ways.

Objectives:

This workshop spread over five weeks aims to equip and train participants in the creative process of designing technology-based solutions for a pertinent educational problem. Participants will be encouraged to identify and work with a teaching-learning issue emerging from their context.
The main objectives are:
Teachers will experience and understand the steps of Design Thinking in the process of designing and implementing digital resources/lesson plans for students
Teachers will discover new ways of exploring, creating and curating digital tools and resources for teaching. There will be a focus on analysing their own teaching-learning context and identifying affordances and limitations of digital learning therein.
Teachers will engage in constructing and  repurposing lesson plans that can be implemented/taught online using constructivist pedagogies and pedagogy content knowledge (PCK)
Who can apply:
School teachers (std. V – X) working in Indian educational contexts are encouraged to apply in pairs. Each group must have only 2 members interested in working on a common problem related to the teaching of Maths, Science, or Language (English or any modern Indian language).  Individual applications will NOT be accepted.
Government organizations, university departments, non-governmental organizations, and/or other educational institutions are also encouraged to nominate interested candidates.
Multiple applications from an organization will be accepted.
The workshop will limit participation to a total of 20 – 26  participants.

Time Frame:
This will be a Virtual Workshop due to COVID-19. It will include synchronous sessions and asynchronous activities spread over five weeks, with large and small group activities. The whole group synchronous sessions will be held on Friday evenings (5 p.m. – 6:30 p.m.) and Saturday afternoons (2 p.m. – 4:00 p.m.). During the week, groups will work asynchronously and will have an hourly synchronous session with the group mentor. Participants are expected to commit a minimum of 30 hours for the workshop, with 4.5 hours per week of synchronous time and 1.5 hours per week of asynchronous time

Workshop fee:
The fee per team (2 participants) is 8,000 INR.
Participants will receive a participation certificate (digital) on meeting the completion criteria.
The completion criteria will be shared with participants in the first week.
The payment gateway link will be emailed to all the selected participants for payment of the workshop fee.

Partial fee waiver:
The minimum fee that is collected from the participants is to meet the workshop cost. The Centre will consider providing a partial fee waiver in select cases. The decision of the organisers will be final, in this regard.

Registration are closed. Applications will be reviewed and the selected participants will be intimated by 10th September 2020
Important Dates:

Last date for application:
August 31, 2020
Selected candidates will be informed by:
September 10, 2020
Last date for Fee Payment:
September 17, 2020

For further details, please email on: edudesign@tiss.edu or call on: 9791620972  and talk to Mr. Devandhiran.

Curious to know more about the workshop and take-aways? Watch this video from ED 2019:


Read about participant groups' engagement and reflections from the previous editions of the workshop

ED2019 Blogs

December 4, 2020 / 0 Comments

March 20, 2020 / 0 Comments

July 3, 2019 / 0 Comments

© TISS and MIT, 2021 Except where otherwise noted, content on this site is licensed under a Creative Commons Attribution 4.0 International license