Educational Design 2019
How does design thinking for education bring out creative learning experience? – a question that I had been chasing for a few years now.
I can surely say that the workshop on Educational Design 2019 (EdTech for Learning) organized by CLIx from the 27th  to 31st May, showed me the path to the answer! The entire workshop was quite a learning experience in itself and that's what I would like to share here with you all.
Coming from a design background, I am quite acquainted with the design process, but mapping it with learning experiences was a struggle. The workshop was designed in such a way that it took us through the journey of defining a teaching learning experience to coming up with a pedagogical solution for our problem. All this was done keeping in mind the learner in the centre and creating resources for this, and not just resources but EdTech solutions too. Interacting with different people across the country, each bringing their perspective to the table itself created a great learning opportunity.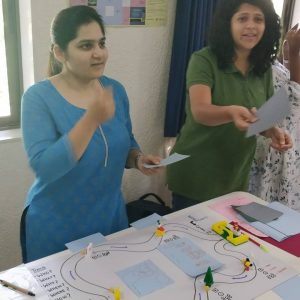 Enthusiastic Engagements
Some of the best highlights of the workshop was interacting with experts and visiting design spaces to explore dimensions that weren't thought of before. The importance of space in a learning environment was something that I never would have considered before. Space, time, context, environment are just few of the many factors that one can incorporate while designing a learning experience. Often one tends to solve complex problems without addressing the base. My biggest take away from the workshop was – 'Defining the problem is half the solution.'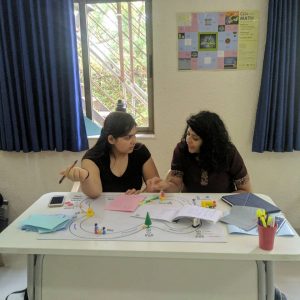 Brainstorming ideas
Exploring a wide solution space with a large quantity of ideas, each diverse from the other and then giving the idea a physical form was all a part of the journey. An important aspect of the journey was play testing. The Fail Fast method is an essential part of designing that I learnt in the workshop. The more you test it the more refined it gets and the more it's fun and engaging, greater is the opportunity to challenge the mind.
With many such insight over the five days, the workshop was quite a success, with takeaways that will stay with me for lifetime.
'Design thinking is all about having an enlightened trial and error process with experimentation and rigorous testing, aimed towards deep learner engagement. And mind it, it's always a messy process!'
– Nidhi Shah
Executive, Strategic Planning and Design
SAF India (Shyamchi Aai Foundation)
Please follow and like us: