Experiences as an assistant media producer
Working in CLIx as an assistant media producer has helped me understand the work and commitment it takes to bring about inclusive and sustainable awareness through education. Through the years, I've been trained to shape my content production based on how it plays out in the context of our schools. I've been with CLIx for almost three years now and I've traveled to all our regions and interacted with various stakeholders. Every State has provided me with a set of unique experiences. I'd like to share some of those experiences and my reflections based on them.
When I first visited Sirohi, Rajasthan, it was to document a teachers workshop. CLIx's various domain teams were familiarising the teachers with what implementation for CLIx in the following year will be.  One of the teachers raised a major concern. He was a little reticent about media and technology and he wanted to discuss what will happen if media and technology intervene in schools of Rajasthan. In short – he was worried teachers will be replaced! I saw CLIx team step in and comfort him that we want just the opposite of that.  Teachers must very much lead the teaching learning process and that technology will aid this process. And we want to provide 21st century skills for their own professional development.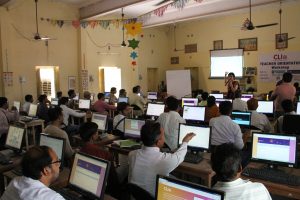 When I visited Dhamtari district of Chattisgarh State for documenting the Learning Outcome study, I was able to witness first hand conversations that students have on how media engages them to learning and provides a richer experience. It excites me how students use  CLIx objects as a resources for the real world. Teacher in Dhamtari happily expressed student are able to see the connection between what they learn in CLIx classroom and how they can use their gained knowledge in a society.
'When students go ahead in class after getting the chance to use  computer based learning, they get more confident', teacher expresses in Mizoram. I have travelled to Mizoram three times over the years. The activation of labs that were once dormant and the availability of CLIx modules especially with it's rich content has caused positive changes in the attitude of teachers as well as the students. Using media in the classroom opens up different worlds for students. It also giving them a better understanding of the different media resources available in the larger world and how to use them. The best thing to happen in Mizoram is that the teacher and students are valuing media by adopting it.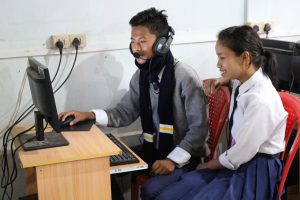 In my overall experience, the students are using media to think critically — evaluate the present situation. They open up more in CLIx classrooms and question things. I am not saying it's just the screens that are the media resources that CLIx provides that has made this possible but the usage of creativity through hands on activities, discussions etc. and it is engaging.
Shiva Thorat
Assistant Media Producer
Connected Learning Initiative
Please follow and like us: