Adopting and Adapting CLIx Technologies
As CLIx enters its fourth year, proudly carrying the badge of UNESCO laureate, the focus is on the quality, scalability and sustainability of CLIx offerings. To achieve these ty-triangle goals, taming technology is essential. Hence, to align every CLIx team on the technology front, build capacities and understand and reflect on previous technology-implementation experiences, a two-day Technology workshop was organised at Pune during 19–20 March 2018.
It was Monday and Sangam Centre's quadrangular domed auditorium was filled with members from almost every CLIx team. In CLIx, technology has been a love-hate dialectical. It's at the crux, but a constant pain and an indispensable bane! My proposition is evidence-based — the CLIx FTx telegram group (and of course my inbox).
The workshop started with an illustration of CLIx technology big picture by Satej, which was followed by Nagarjuna's (Homi Bhabha Centrefor Science Education, TIFR) elucidation of the journey of the CLIx platform and the landscape of EdTech in India's public schooling system. How to facilitate transfer of technology to school and governmental agencies? How can we build a supportive ecosystem? How to make technology simpler by adhering to open and interoperability standards? A discussion on these and other such questions started and set the stage for subsequent sessions.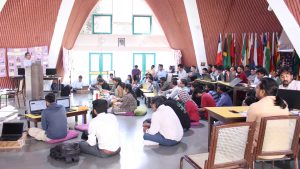 For the next two days, all the participants, drawn from various parts of India and belonging to various teams, huddled in groups and soiled their fingers with CLIx technologies — from setting up mock-up school ICT labs, installing the platform, operating the 'jazzy' black command line to data extraction and platform affordances. It was interesting to see technology transfer happening across teams, especially from field teams. It was indeed a tech-mela scene.
The workshop had sessions dedicated to technology troubleshooting and best rollout practices as well as data collection. There was also a session by Rafikh (Science Team) who introduced various useful editing and documentation software programmes such as Inkscape, GIMP, OpenShot and Peek. Saurav Mohanty (Chhattisgarh Team) did a presentation about maximising the potential of Telegram and discussed how to harness the affordances of open source technologies.
State field teams from Chhattisgarh, Mizoram, Rajasthan and Telangana shared their field stories, reflections as well as some of their creative initiatives to make CLIx technologies simpler and adoptable. During the sessions, to keep yawning away, the teams played energiser activities and kahoot. The participants poured out their hearts frankly yet with sobriety.
Of course, like any good workshop, there were technical snags, session time spill-overs, neglected topics, unheard voices. Nevertheless, within a short span of two days, the workshop acted as an exploratorium and exposed a number of intricacies, challenges as well as affordances of CLIx technologies —the CLIx platform, TISSx web and app, MiTi bot, Telegram — as well as hands-on experience of school ICT lab setup. Hope the workshop learnings will enable us all to demonstrate scalable yet sustainable model(s) of an educational intervention to enhance the quality of education. As a concrete outcome COOOL (CLIx Open Ongoing Online Lab) workspace has been created to document the technology processes. The workshop ended with Ramjee's wrap-up note on adopting and adapting technology for learning, only to be continued for implementation workshop at the scenic premises (with cynical rules) of Sangam World Centre.
Although the workshop was the connected and collaborative work of many colleagues, special mention is due to the CLIx tech team members —Satej, Amitabh, Mama, Santosh, Vivek, Kedar, Rachana, Prachi, Keerthi, Tanvi and Mrunal.
Sadaqat Mulla, Project Manager (Platform and Tools), Technology team, CLIx
Please follow and like us: