CLIx Open Day: Learning with Games (07.08.2018)
CLIx is now a part of the conversation with many TISS campuses. What the Connected Learning Initiative (CLIx) project was about and how it relates to TISS life were the main outcomes of the event for the TISS, Mumbai, community. Twelve game-based desks, along with a poster exhibition, included participation from the MIT and Homi Bhabha Center for Science Education (HBCSE) teams.
The CLIx team was busy perfecting its game designing modules. The Open Day was an occasion to experience work by other colleagues for four hours on a single day. The Open Day was a festive occasion marked by balloons, flags, buntings, bright bands and candies!
It was a game-based theme for all teams. Computer-based learning modules were designed as Policequad maths games. The Science team experimented with sprinklers and magnets to project astronomical phenomena. The English module offered recording and playback experience. The Values team developed a tree by asking each visitor to contribute value leaves. Value games helped players reflect on their beliefs.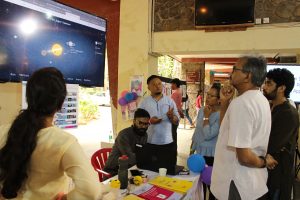 Visitors at the Science stall      
Learning is completed through interactions between students and teachers. The teacher professional development (TPD) team asked every visitor to record his or her teaching. The students' platform attracted the attention of many visitors, prompting them to ask questions. As did the technology desk, as most of the game thinking rides on the innovative, indigenous technology at CLIx.
The Robotics Street Workshop was a unique experience brought by the Integrated approach to Technology in Education (ITE) team. This team gladly introduced their own teachers from the field to interact with visitors. The well-knit team, involved in creating video stories, material, interactive experiences, managed every interaction professionally.
Labs are meant for tinkering. Specially when science experiments are low-cost and doable as in the HBCSE Tinker lab, it draws many inquisitive visitors. The MIT game desk registered quite a visible presence. The implementation desk was managed by field professionals, and they offered an intricate presentation.
As one visitor commented, "… The best part about these platforms was that they were very user-friendly and allowed students to go back and forth until they understood the concepts well. There are stages of progress, so, self-testing is by itself encouraging." This comment was a valuable validation.
Though TISS students' fieldwork day coincided with Open day, many students walked in immediately after they finished their fieldwork. The most encouraging was the participation by the School of Social Work. Students considered the CLIx Open Day an equivalent of fieldwork experience and wholeheartedly contributed in the preparations and interactions.
As they say, journeys can be as satisfying as reaching destinations. This was true for the preparation and support team. Their enthusiasm and sense of service added to the day that will certainly remain long in memory.
Please follow and like us: