From Data Glut to Dissemination: How to Visualise and Communicate Data ( 21.08.2018-25.08.2018)
The Centre for Science and Environment (CSE), New Delhi, organised a five-day certificate training programme on 'data analysis, visualisation and outreach' during 21–25 August 2018 at Nimli, Rajasthan. CLIx research team members Arundhati, Renbeni and Satish attended the training programme for team capacity-building.
The training is about reading numbers and data, making sense of them, making them usable for influence and impact, and telling a simple story to communicate with larger audiences irrespective of disciplines. The course also includes how to search data, how to analyse, visualise and interpret it, and how to translate it into actionable information.
It was a very good learning experience that has enriched us not only in data analysis skills but also in data visualisation and communication skills. In the training programme, there was a series of sessions on handling data at different levels, ranging from how to handle big data (integrating data) to python session to data presentation techniques through the use of Power BI, Pivot Table, Excel and other software. Further, a session was also conducted on how to communicate data as a message through different social media platforms such as Facebook and Twitter. There were also inputs on how to speed up research turnover, report design and how a given data set can be viewed from different angles for different research purposes.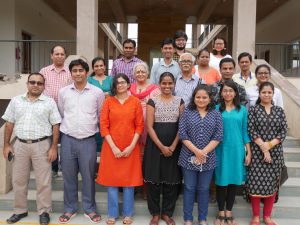 Participants at the training programme
There were multiple takeaways from the training programme for each team member and also for the project at large. Introduction to different software and techniques to design and handle data (such as Gapminder, InDesign) was interesting and can be directly used for presenting the data for the upcoming Endline data analysis. Since the training programme has a select list of participants, there was individual attention to our queries and a close discussion related to our research thoughts. The collective experience of resource persons from organisations such as the World bank, Centre for Science and Environment, Down to Earth and CODATA (Brazil) was very helpful.
The organisers were very helpful and tried their best to accommodate the various participants from different disciplines so that everyone had something to take away from the programme. The memorable hospitality and wonderful food at the CSE new green campus at Rajasthan have only added to the enriching experience.
– Renbeni Kikon, Senior Research Associate, Research Team, CLIx
Please follow and like us: