Experiences of Tech4Transformation 2.0 (12.09.2018)
The Tech4Transformation event was organised by the Tata Trusts on 12 September 2018 to celebrate its 126th year of inception. It was a coming together of various individuals and organisations who have experienced the application of technology in driving social change. This was an event where people from government administrative units, the police, municipalities, media, CSRs, and a host of NGO initiatives shared the stage to discuss and debate the way forward for the application of technology for social change.
There were some inspiring stories of how IT and its various facets have been leveraged to solve problems in the public space. From the handling of police emergencies in Uttar Pradesh to developing an online agriculture system in Meghalaya, from e-vouchers for TB patients by the BMC to various medical solutions, panel discussions focused on the problems of scale, efficiency and the institutionalisation of such initiatives. People from the academia also pitched in to provide insights on data analysis, data privacy and the ergonomic aspects of technology.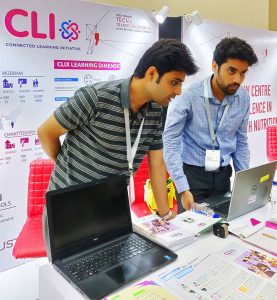 CLIx members at the stall
CLIx had put up a stall and was among the four Tata Trust funded initiatives showcased on the occasion. Before the commencement of the event, people walked up to the stall during lunch and tea to receive information about CLIx. During these interactions, we demonstrated the CLIx student modules, gave information on how teacher professional development is an integral component of the initiative through face-to-face workshops, Edex courses and through the creation of a vibrant community of practitioners. We explained the use of open educational resources, partnerships with different academic institutions in the country and abroad for module development, platform management, implementation and research. CLIx being an action research project, latest research findings in education and data from the field continuously inform our practice. The participants were told about CLIx research publications as well.
Some of the questions people raised during the event related to the USP or the key differentiator for the student modules from other competing education service providers in the market. There were concerns about the modalities of implementation, ICT infrastructure in schools, continuity of support to teachers participating in this programme. There were questions on the student modules, such as whether they were a supplementary or a crash course for the students. A few visitors were also interested in hearing the success stories from the different states. Most of these questions were answered to the participants' satisfaction but some not adequately and they were directed to relevant websites and key people for more information.
The fact that the CLIx initiative is the recipient of the" UNESCO King Hamad Bin Isa Al-Khalifa  Prize for the use of ICT in Education" was definitely a highlight of our participation in the event. On a personal level, it provided us with an opportunity to learn about a plethora of initiatives and people trying to marry ICT with social change.
– Saurabh Thakur & Sumegh Paltiwale,
Research Associate, Math team ,
Centre for Education, Innovation and Action Research 
Please follow and like us: