Revisiting CLIx Experimental Schools of Mizoram: Learnings and Observations (19.11.2018-23.11.2018)
The official plan of the CLIx English team was to visit the experimental schools in Mizoram to conduct listening and speaking activities with their students. It soon expanded into the exhilarating and academic task  of collaborating to scrutinize the development of interpersonal communication skills in these students. The CLIx research team quite efficiently visited 12 selected schools in the short time of 5 days to meet and interact with their teachers and students. They conducted these visits during 19–23 November 2018.
Many cultural exchanges took place during the interaction and discussion between the CLIx research team and the CLIx schools' teachers and students. 'A lot seems to have changed in these schools since our last visit,' observed VL Ramdinsanga, a research team member from Mizoram.The research team observed that, after implementation of CLIx modules, students who were earlier shy, self-conscious and inefficient in operating computers had become more open to learning, interacting and innovating with the resources now at their disposal. Ms. Esther, (a teacher educator) from Durtlang High School observed, 'Now school seems more brighter and a 'cool' place to hang out with friends and learn at the same time.'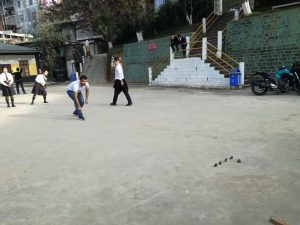 Bethlehem High School- CLIx English team member participating in Koi with students
The research team had a first-hand experience of this positive difference in Ramhlun and Bethlehem. Students of Ramhlun queued outside the classroom in excitement for their speaking activity. Every one of them engaged in conversations with a CLIx English team member, inquiring about the person's lifestyle, culture and Bollywood in Mumbai. They appeared more confident and open as compared to the previous visit. All of them expressed their aspiration to go out of Mizoram in the near future for higher studies.
In Bethlehem, Ms. Mathani (CLIx English teacher) invited the research team members to engage with her students, who were playing Koi. (Koi is a traditional outdoor game where players aim to hit and knock down the stone or seed selected by an opponent.) She informed that she had learnt the important role of games in education during a training conducted by the Tata Institute of Social Science (TISS). Communicating in English, students cheerfully welcomed the research team members and taught them to play Koi. Similarly, all the other schools warmly welcomed the research team members and helped to conduct the activities. A senior teacher at Ramhlun said, 'The CLIx team members' visits are opportunities for our students to meet and interact with people who are different from their own community and culture.'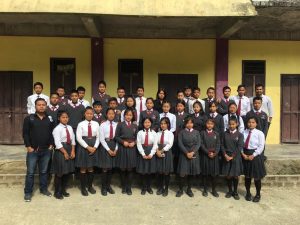 Ramhlun School- Students and CLIx English teacher  with the CLIx team member
A lot of the credit for this successful visit goes to the CLIx Mizoram team, who coordinated with the schools and arranged the meetings to help achieve the goals of this visit. The exciting and fun-filled academic visit to Mizoram was rewarding for all the participants.
– Mushtaq Ahmed
Research Associate
CLIx English Team
Centre for Education, Innovation and Action Research, TISS
Please follow and like us: