Equipping teachers to continue teaching in COVID-19 times: Notes from the online training for teachers in Goa
The world is facing extraordinary circumstances due to the pandemic and so are the education systems across the world. Online and distance education have been used extensively to help students to continue their learning while maintaining social distance. However, this situation throws up additional challenges in the Indian context. On the one hand, there is the issue of addressing equity in education by providing equal access to ALL students for learning opportunities, and on the other hand, there is the challenge of preparing teachers to adopt diverse ways of connecting with their students and providing quality education in interactive and engaging ways.
With uncertainty looming large over the present pandemic situation and reopening of schools, Goa administration decided to plan the training of 10,000 teachers of Goa to equip them with skills for using distance and online learning modes. Under the leadership of Director of Education, Goa, a collaboration between Goa SCERT, Adhyayan Quality Education Foundation, Tata Institute of Social Sciences and Tata trust was formed to design and conduct the training of these teachers.
The four-day training on "Effective planning for achieving learning outcomes" focused on introducing online and distance technologies and then integrating them into their plans for teaching and for assessment considering the different scenarios that might arise in the near future due to the pandemic situation. The first two days involved introduction of virtual platforms to teachers like Google meet, Jitsi, Big Blue button, introduction to a variety of Open Educational Resources (OERs) ranging from NROER, Diksha platform, CLIx OER, Geogebra, PhEt, Khan Academy and even Google classrooms and Flip grid. The last two days were focused on thinking about the annual plans, the unit plans and the connection between the unit and the lesson plans. The teachers made a lesson plan for distance teaching, integrating the OERs and discussed and sought feedback from their peers. The design of this first of its kind completely online training involved hands-on learning for teachers as learners and reflection on their learning. Every day, the first synchronous session-oriented them to the focus of the day, followed by asynchronous sessions in which they explored the use of technologies in groups by setting up the video calls themselves and learning from each other. After this, the teachers reflected on their learning through group presentations and discussions in a synchronous session.
The first workshop was done for training 406 master trainers and 336 computer teachers from May 5-8, 2020. Post the master trainers' training, a team of 2 master trainers was formed supported by the computer teachers for technical issues. These teams trained the first batch of 5000 teachers from May 9-12, 2020 while the facilitator team observed and debriefed them every day on the basis of observation.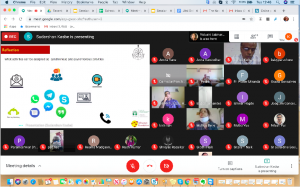 The Learning curve exhibited by all the master trainers as well as teachers was tremendous as we saw teachers move from having difficulty in unmuting themselves on a video call to being able to share their screen and present their plans as well as realizing the value of collaborative learning with their peers. They struggled with new technologies but with the help of some of their knowledgeable peers and some help from younger members of their families they managed to learn to use Google forms and Mentimeter for assessing as well as using the chat function in the calls adequately to check for understanding and express their views about use of OERs. Teachers were also able to identify the resources that they can ask students with limited connectivity or limited access to devices to explore. What was heartening was that many of them realized that these OERs can be useful to engage with students and discuss even beyond the current pandemic situation and they were glad that they were able to learn new skills through an entirely online workshop- something that they had never thought will happen. But then humans have always risen up to the challenges and adapted and persevered in the time of crisis. The facilitator team felt humbled by the amount of patience and perseverance shown by teachers in these testing circumstances and hope that they will be able to successfully use them with students to continue to provide active learning experiences to them.
Ruchi Kumar
Assistant Professor
CEIAR, TISS
Please follow and like us: