Assimilating Technology with Classroom Teaching: A Teacher Writes
To address some of the needs and concerns raised by teachers, the English Team spent months ideating and developing new student modules for schools. A certification course — Communicative English Language Teaching — was also designed for the professional development of English teachers. All these efforts culminated in a three-day workshop held during 23–25 June 2017 for English teachers from 35 government schools in Raipur.
The workshop was designed to introduce teachers to CLIxresources and to provide a hands-on experience of the courses and modules. Shreeja Nair Sonwani, a teacher at the Government Higher Secondary School, Aamdi, shares her thoughts on the workshop.
Here I share my experience and feedback about the three-day workshop on the Communicative English Language Teaching course. I had a wonderful experience with the CLIx team and the facilitators who were very cooperative during the session. The sessions were done in a reflective mode, and teachers shared their views and ideas frequently. The group activities were very useful. We created new lesson plans and learnt about new teaching techniques in a short period.
The stories in the form of videos, story writing activities and the images in the modules can motivate students to use English in their daily lives.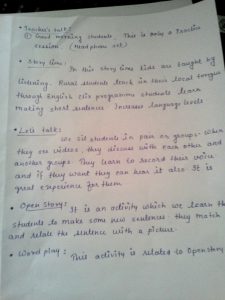 What are the uses of these CLIx tools? By Shreeja Nair
In classroom teaching, assimilating technology would be beneficial for both students and teachers as students learn to interact and share their ideas. Overall, it was an interesting training session. However, we faced some challenges, too. Some teachers did not agree with the objectives of teaching this course, because they believed it would be hard to execute this idea in schools. While this is partially true, I would say it is not impossible. We would have to work together to achieve this goal.
(Shreeja Nair Sonwani, English teacher, Govt. Higher Secondar School, Aamdi, Raipur)
Please follow and like us: