Science Face-2-Face Training at Chhattisgarh
A three-day workshop for science teachers in SCERT, Raipur, was conducted from 14 to 16 July 2017. The objective of the workshop was to introduce the science modules Motion and Ecosystem to the teachers. The forum was also used to introduce the Science TPD course to the teachers. The workshop was attended by 20–23 teachers on all three days.
Day 1 began with introductions where each participant was expected to mention one habit that he or she just could not get rid of! After the introductions, participants took the pre-test on the teachers' platform. Following this, the 'Motion' module was introduced. Like other CLIx modules, Motion is a blended module that combines hands-on activities and digital interactives. As group work is a part of the pedagogy the module encourages teachers to adopt, teachers were asked to work in groups on the module activities and throughout the workshop.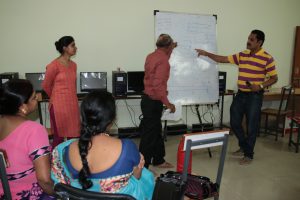 Teachers presenting group work
It was interesting to see teachers's excitement while doing the rolling ball experiment. Each group adopted a different method to record the time and distance that the ball took to cover a segment. The day was concluded with activity groups presenting their work to all participants.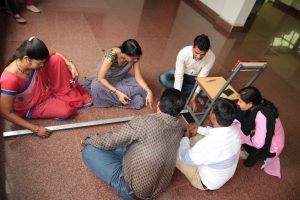 Teachers performing rolling ball experiment
On day 2, teachers explored the students' platform on their own as much as they could. Each teacher took a keen interest in going through each lesson in detail and attempted to answer the questions and watched the videos. There was anxiety among teachers as to how they would conduct such activities in classrooms with a large number of students.
On the last day, teachers got an opportunity to talk to Prof. Kishore and Prof. Bholeswar via Skype and learnt more on the topic 'cell'. Later in the day, they completed an experiment in the Ecosystem module, almost becoming children themselves.
Although the teachers were a little apprehensive about implementing the modules in their schools, they did see the worth of using such interactive modules to teach their students.
(Pallavi Seth,

Project Manager, Science team, CLIx)
Please follow and like us: