CLIx Orientation, Chhattisgarh
On 7 and 8 April, 2016, SCERT, Govt. of Chhattisgarh, along with UNICEF, TISS, EklavyaandMIT, held an orientation programme for SCERT faculty and govt. officers in the state. 22 persons participated.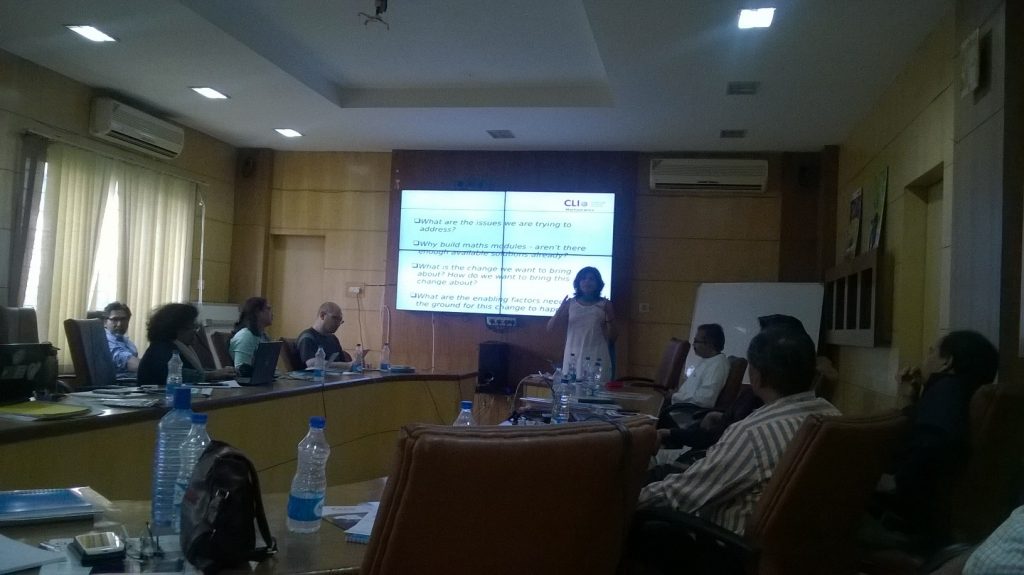 Mr Sanjay Ojha, Director SCERT, thanked the Tata Trust and all partner organisations for introducing CLIx in Chhattisgarh, which would lead to enhanced student achievement in secondary schools.
The first day saw presentations by CLIx team members on i2C, Maths, English, Teacher Professional Development (TPD), and the Research and Monitoring plan. The second day included a closed group discussion about the roll-out plan for the state.
The idea was to forge a connection between module development groups from TISS and resource persons from the state, to enable further collaborative work. An implementation plan emerged, outlining expected results, and a timeline involving the key agencies.
There were crucial discussions on what teachers would require to enable students to achieve desired competence levels. Motivation, acknowledgement, and ICT skills were deemed more necessary than subject competence for teachers to be successful implementers. The SCERT team felt TPD would work best if it were continuous – past initiatives that relied on one-time training sessions had failed. Also, "Teacher mentor" or "teacher facilitator" were considered more appropriate terms than "teacher educator". Sheshagiri M from UNICEF emphasised the role of pilot sessions. The disproportionate student-teacher ratio, and teachers' time, were flagged.
Slides shown illustrated Continuous Professional Development, Face-to-Face workshops, and Community of Practice (CoP). The Science, Maths, English and EduSat Teams at SCERT expressed interest in the CLIx Fellowships – under which experienced faculty may be part of CLIx domain teams, so as to understand the new media in education better, have opportunities to re-imagine pedagogical approaches, and be connected to new and diverse epistemic communities.
Please follow and like us: